What is Retinol and Why Do You Need This Ingredient in Your Skincare Routine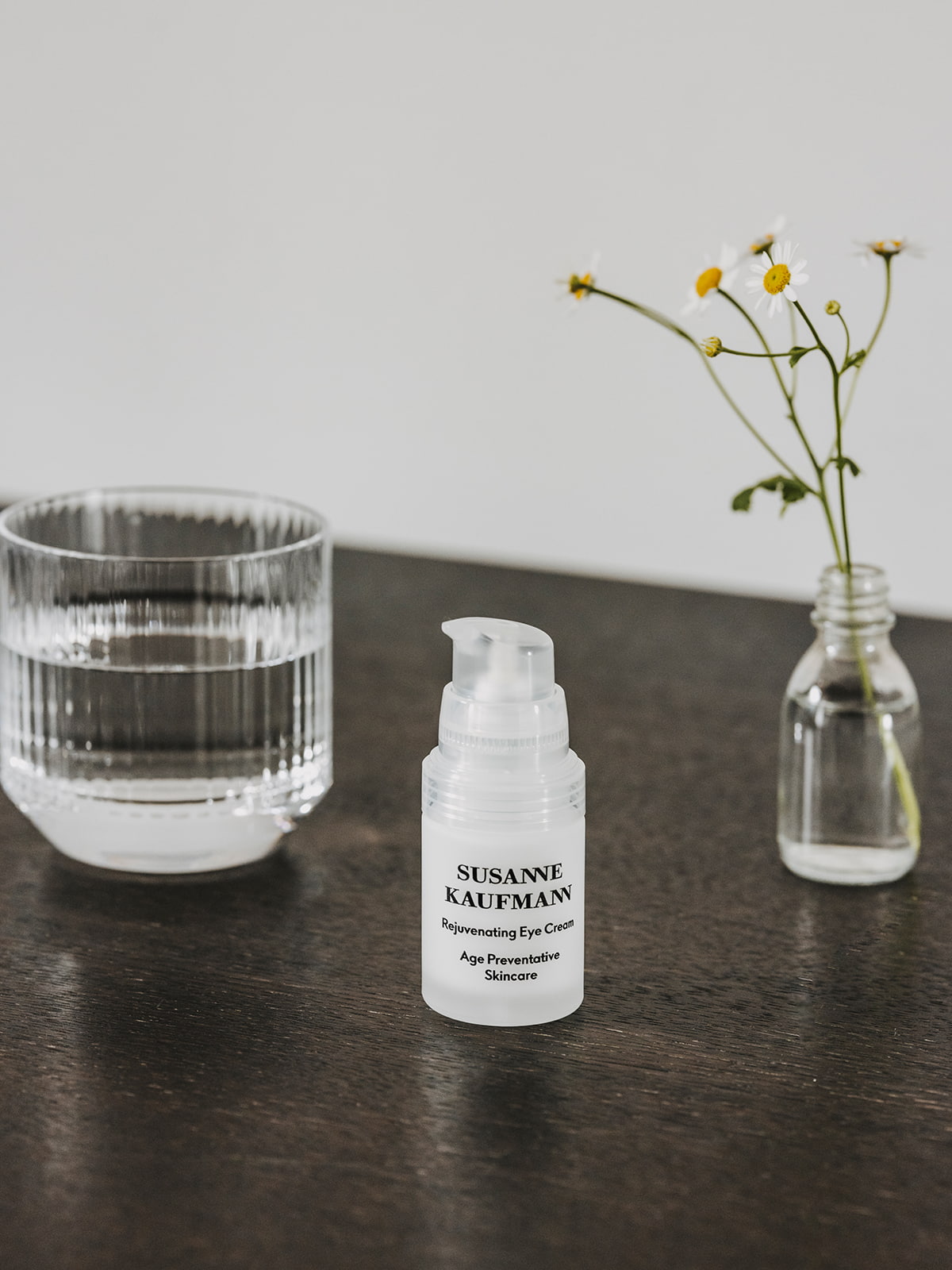 Retinol, a form of vitamin A, is a real hero ingredient when it comes to skincare. With many benefits for the skin, it can take your beauty regime to the next level.
Find out how you can incorporate retinol in your daily routine and discover our skincare collection formulated with natural vitamin A for a smooth, beautifully glowing complexion.
Retinol vs. retinoids
Retinol and retinoid are two terms that are often used interchangeably, but this isn't completely correct. Retinoids are powerful compounds that derive from vitamin A, and retinol is one of the many types of retinoids. It can be found in numerous skincare products, such as retinol serums, moisturisers, night and eye creams as well as body lotions.
At Susanne Kaufmann, we are committed to using only the finest plants for our powerful natural formulas and choose natural forms of vitamin A for our products. The natural retinol in our skincare comes from plants and botanical ingredients such as rosehip seeds, yarrow, jojoba, moth beans and broccoli seeds.
How does retinol work?
As we get older, skin regeneration slows down, but retinol – like all retinoids – can help boost skin renewal. Retinoic acid, the active agent found in all retinoids, penetrates deep into the layers of the skin and prompts the surface skin cells to turn over and die rapidly, making way for new cell growth.
Retinol and other retinoids also improve the skin's production of collagen and can stop it from being broken down. More collagen equals plumper skin and improved elasticity, which is why retinoids are a key ingredient when it comes to anti-ageing skincare.
What are the benefits of retinol?
Retinoids have three key benefits for the skin:
Improving the complexion for fresh-looking, even-toned skin: retinoids help achieve a smooth, even complexion and can reduce hyperpigmentation and dullness of the skin.
Smoothing and preventing fine lines and wrinkles: retinol and other vitamin A derivates are known as powerful ingredients to improve skin's firmness and elasticity.
Clearing impurities and acne: unclogging pores and reducing inflammation, retinol benefits skin prone to impurities or acne.
What does an effective vitamin A skincare routine look like?
Step 1: Cleanse: Our Soothing Cleansing Milk washes away dirt and removes make-up gently without drying out the skin. Containing vitamin A rich rosehip seed oil, the cleansing milk provides a strong healing and regenerative effect, while the herbal compound of chamomile, sage and St. John's wort flowers soothes the skin, making this cleanser ideal for dry and sensitive skin.
Step 2: Tone: For a thorough double-cleanse, apply our Soothing Toner next. Chamomile and mallow have an anti-inflammatory effect, while yarrow extract, rich in natural retinol, increases enzyme activity and stimulates collagen production. The result is a softer and brighter complexion.
Step 3: Serum: Vitamin A serums can be a good way to incorporate retinoids in your daily skincare routine. Our Rejuvenating Power Serum contains moth bean, also called natural vitamin A, to fight the effects of ageing. Hyaluronic acid binds moisture in the skin, while a fermentation agent from algae and white lupines nourishes the skin precious nutrients, to protect cells and activate their repair mechanisms, leaving the skin feeling vitalised, firmed and rejuvenated. The serum is suitable for all skin types.
Step 4: Moisturise: Our Age Preventative Skincare gives extra care to ageing skin, with retinol being a key ingredient. The Rejuvenating Day Cream and Rejuvenating Eye Cream contain an intelligent combination of active ingredients that leave skin looking healthy and radiant. Vitamin A rich broccoli seed oil and ectoin protect the skin against the first signs of ageing as well as damage caused by environmental factors. Apply the creams daily for a revitalising effect and a lasting moisture boost. To stimulate cell regeneration overnight, try our Rejuvenating Night Cream formulated with rosehip seed oil, rich in natural retinol.
How to use retinol – dos and don'ts
Follow these tips for healthy skin and a refreshed and refined complexion:
Dos:
Always wear a high SPF when using retinol or other retinoids, as they can make skin sensitive to sun damage. Also, sunlight can diminish the power of retinoids, so use them together with an effective SPF or apply your retinol in the evening.
Integrate retinoids slowly and gently. Be mindful of the type you use, as some retinoids can irritate sensitive skin. Choose the right concentration for your skin type and incorporate the product gradually in your routine. If you need help in choosing the right products for your skin, contact our customer services team by email or on our social media platforms and we will help find the right products for you.
A combination of different ingredients will always lead to the best results. Vitamin E, C and retinol work synergistically to help your skin look its best. Vitamin E protects your skin from free radicals, whereas vitamin C and retinoids build collagen and help skin regeneration. Discover our skincare enriched with vitamin E and our vitamin C skincare collection.
Be patient: Apply your retinoid serums and creams consistently to get long-term benefits. It can take several weeks of regular use before you see improvements.
Don'ts:
Using skincare products containing vitamin A isn't recommended during pregnancy. Always speak to your doctor of you have any questions or doubts.
Don't start too late – vitamin A is best for skin over 30, when fine lines and wrinkles start to appear, however you can start using retinoids younger, as prevention is often better than cure.
Shop Natural Retinol Skincare