What Ingredients Are Moisturising for My Skin?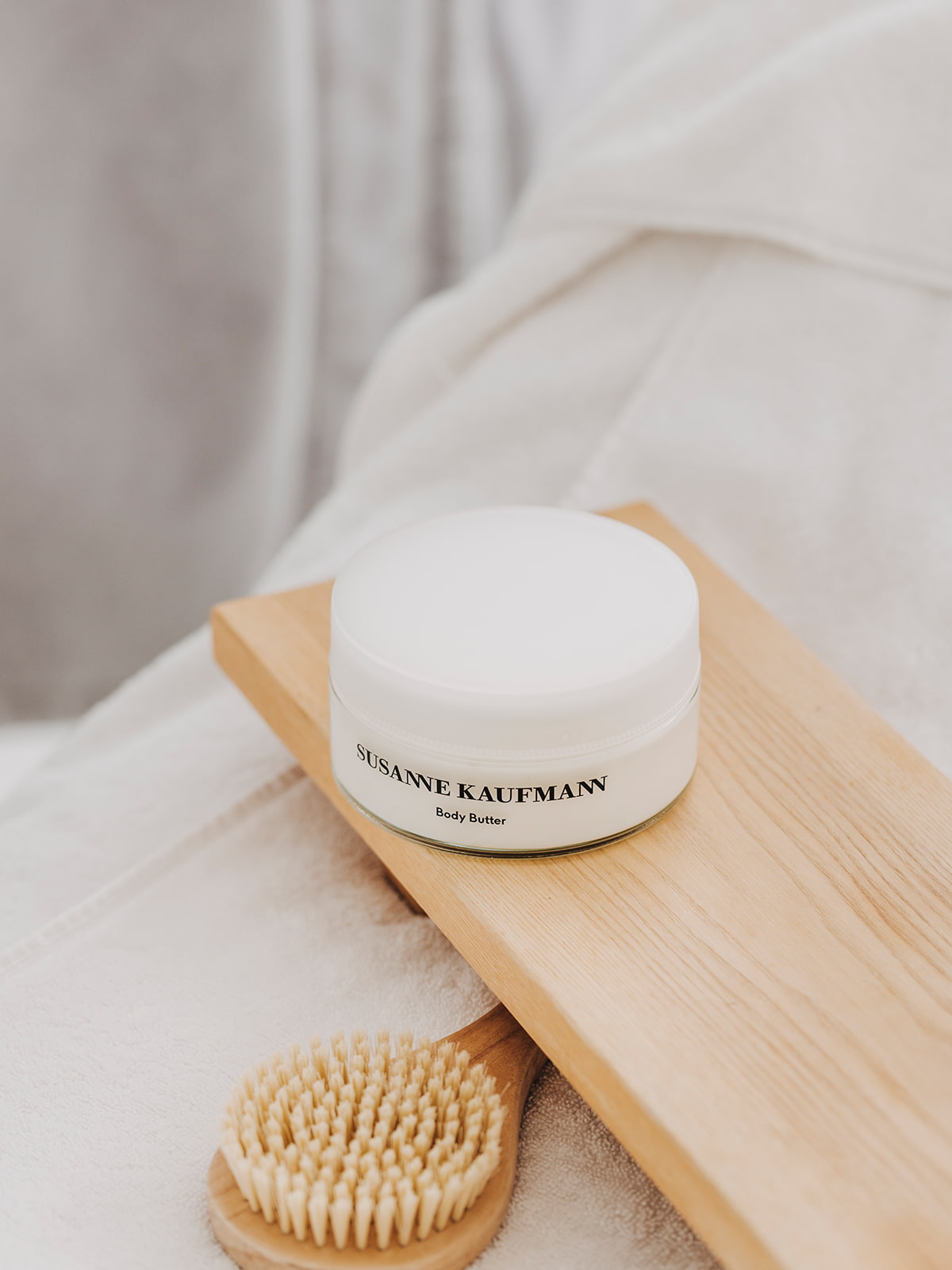 Discover Susanne's top list of ingredients to look out for to keep your skin soothed and moisturised this summer.
At Susanne Kaufmann, our skincare philosophy is centred around supporting the skin's natural functions so it can look and feel its best. We combine the purest, most potent botanical ingredients with cutting edge technology and research to create our skin and body care lines, which help strengthen the skin's ability to protect itself, whatever your skin type. The result is healthy skin with a beautiful natural glow. As the seasons begin to change, so should our skincare. Discover Susanne's top list of ingredients to look out for to keep your skin soothed and moisturised this summer.
Ingredients with moisturising benefits for the face:
Chamomile & Rosehip Oil: Soothing Cleansing Milk
A little too much sun exposure? Replace your gel cleanser with something a little more soothing. Our Soothing Cleansing Milk contains a calming herbal compound of chamomile and is rich in rosehip oil known for its ability to store moisture and its regenerating effect for a hydrated complexion.
Hyaluronic Acid & Joubarbe: Hyaluron Serum and Nutrient Serum
We develop our formulas using a blend of effective active ingredients, which enhance the efficacy of many of our products when paired together. For a nourishing at-home facial treatment apply our Hyaluron Serum containing Botanical Hyaluronic Acid. Hyaluronic acid is a naturally occurring substance in the skin which attracts and retains up to 1000 times its molecular weight in water to provide long-lasting hydration for plumper, firmer skin.
Our Founder, Susanne, recommends applying the serum as a first step following with our Nutrient Serum serum. Aloe Vera, known for its anti-inflammatory and cooling effect is the perfect solution for sunburnt, dry or dehydrated skin after pro-longed sun exposure.
Hyaluronic Acid, Mallow & Rosehip Oil: Nourishing Day Cream
Dry and sensitive skin? Try our beloved Nourishing Day Cream with hyaluronic acid for deep hydration, soothing mallow and nourishing rosehip seed oil to deeply nourish dry or dehydrated skin without causing irritation.
Ingredients with moisturising benefits for the body:
Liquorice Root: Alkali Salts
Our multi-purpose Alkali Salts salts can double as a gentle face scrub, soothing bath or de-stressing footbath to help calm and balance the skin, releasing any blocked energy or tension. To use as an exfoliator, take one teaspoon of our Alkali Salts Deacidifying and mix with water. Gently apply to the skin to gently restore the skin's pH balance and eliminate toxins. For a warm soothing bath, just add 8 spoonful's and enjoy. The beautiful oil derived from Liquorice has a balancing and relaxing effect to relieve any stress or tension from a long hard day.
Shea Butter: Body Butter
Frequently moisturising the skin will help maintain your tan all summer long. Our best-selling hydrating Body Butter containing Shea Butter rich in vitamin E, works to protect the cells and provides moisture to soothe and firm the skin. Apply to the skin after a warm bath or shower for all day hydration.
Hydration is key
Ingredients can only go so far: keep your body and skin hydrated to keep the appearance of fine lines and wrinkles at bay.
"Drinking enough water helps the body to function properly. If we do not drink enough, vessels constrict and our complexion can begin to look tired and dull," explains Susanne.
Our edit of cleansers, nourishing moisturisers, highly concentrated serums and wide range of body care products work to replenish moisture to the skin, so you can enjoy soothed and moisturised skin all summer long.