An Essential Guide To Men's Skincare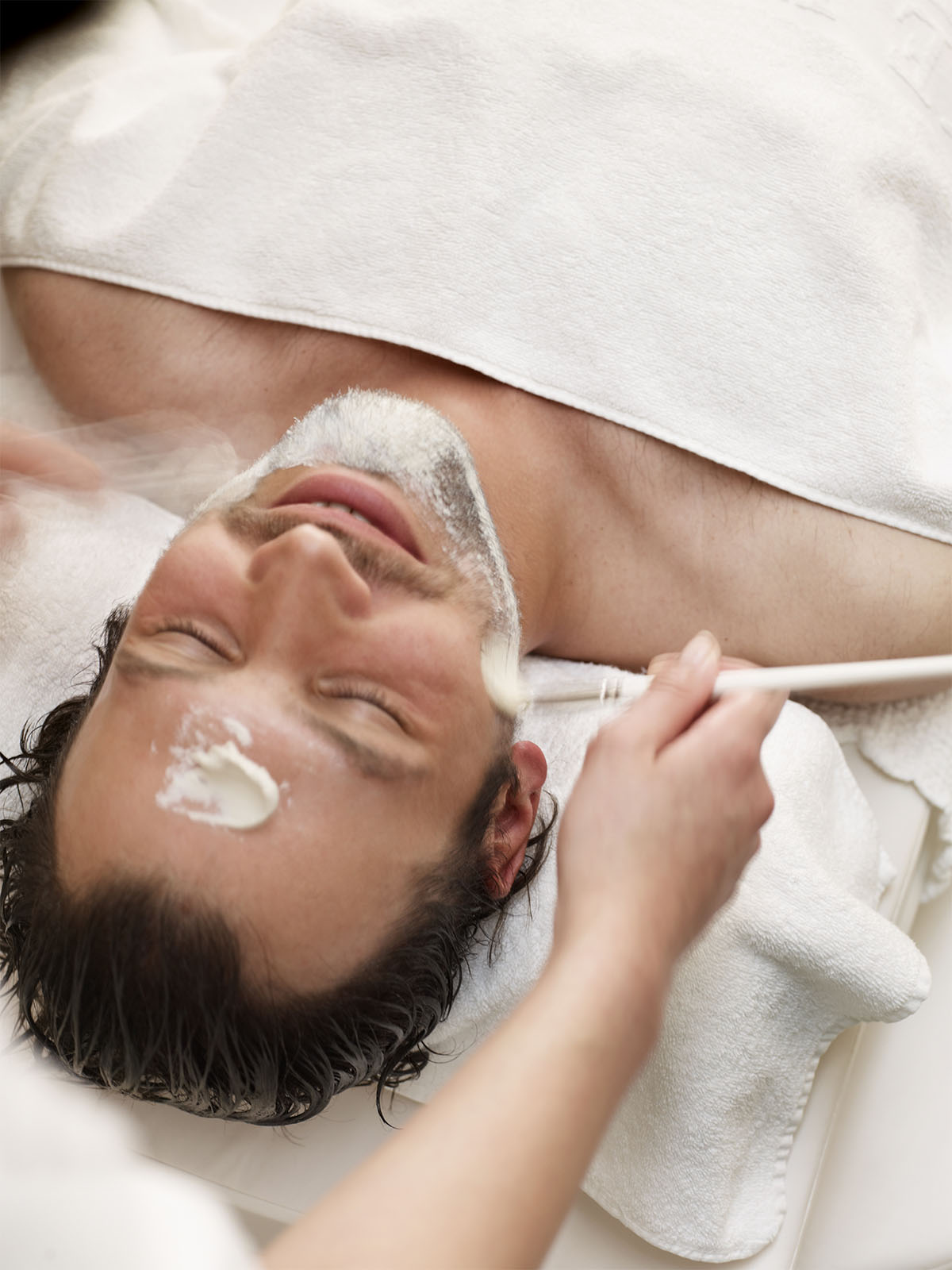 To ensure healthy and nourished skin, it is essential to incorporate skincare into your daily routine. Discover our fuss-free guide to men's skincare to achieve maximum results with minimum effort.
Did you know men's skin is around 20% thicker than women's? It also has a much higher oil content. This means it calls for much deeper cleansing and care.
To ensure a healthy and even complexion, it's important to implement a skincare routine into your daily regime. Discover our 'fuss free' guide to men's skincare and the importance of specifically formulated skincare for men.
Click the link to have your questions answered or scroll down to read our full guide for all the details you need to makeover your skin care regime.
What does an effective men's skincare regime look like?
The ideal men's skincare routine is a 4-step regime that includes: cleansing, toning, eye care, and moisturising. These 4 simple steps help to clean, nourish and protect your skin.
Step 1: Cleanse. Every effective skincare routine begins with a thorough cleanse. Cleansing removes dirt, oil and pollution, as well as any products you've used during the day.
Our Invigorating Cleansing Gel contains active ingredients derived from soothing witch hazel and cockspur hawthorn for a nourishing cleanse that penetrates deep into the pores.
The antioxidant bioflavonoids found in cockspur hawthorn have an anti-inflammatory and antimicrobial effect on the skin, helping to calm irritation and soothe spots or breakouts. The cleanser prepares the skin for the next 3 steps of the routine
Step 2: Tone. Toning the skin offers a deep double cleanse for the skin to remove any leftover dirt particles and other impurities, as well as balancing the pH levels of the skin.
With soothing chamomile flower extract, our Soothing Toner works to cool the skin while hyaluronic acid moisturises and brightens the complexion. This toner is especially suitable for skin prone to dryness. The Purifying Toner effectively combats shine and ensures thorough cleansing of the skin to avoid blocked pores and impurities.
Step 3: Eye Care. As we age, the delicate skin around our eyes needs extra care to reduce puffiness and the appearance of fine lines and wrinkles. Adding an eye care step into your skincare routine can help to protect and regenerate the eyes.
Try our best-selling Rejuvenating Eye Cream to make eye care easy. Simply tap the product into the skin around the eyes in the morning and evening. A powerful combination of active ingredients including firming ecotin, baobab pulp, magnolia and echium seed oil works to increase cell protection and regenerate the sensitive under eye area. This cream adds extra moisture to the skin for firm, bright eyes.
Step 4: Moisturise. The final step in the 4-step routine is moisturising. Moisturiser is essential for replenishing the skin and helping retain your natural moisture.
Our Invigorating Face Gel contains ultra-hydrating ingredients including apple fruit extract, aloe vera and the natural cell protection ingredient ectoin. Suitable for all men's skin types, this moisturising gel supports cell regeneration, helping to reduce the appearance of wrinkles and provide a youthful glow.
For effective overnight care, Susanne developed the Invigorating Night Cream. Rich in nourishing broccoli seed oil and ectoin, this night cream offers an intensive moisturising effect while stimulating cell function to restore your skin while you sleep.
What other factors can affect men's skin?
We take a holistic approach when it comes to men's skincare. This means if you live an all-round healthy lifestyle, you will not only look but feel your best-self.
As well as implementing a skincare regime into your routine, it's important to think about your lifestyle, too. A healthy diet high in antioxidant-rich fruit, vegetables and whole grains as well as regular exercise can have a significant effect on your skin, your appearance and your overall well-being.
Ingredients and good skincare can only go so far: it's crucial to keep your body and skin hydrated to help maintain healthy skin and keep the appearance of fine lines and wrinkles at bay.
Can men use women's or unisex products for skincare?
Although men have naturally thicker and oilier skin than women, unisex skincare and skincare formulated for women is more than suitable for men to use – especially if your skin tends to be dry.
Men's skincare products are formulated specifically to target common skincare concerns among men, especially oiliness. There are also soothing products designed to soothe irritation from shaving.
We recommend using our Purifying Serum, ideal for men with combination or oily skin for an instantly clarified and hydrated complexion. For demanding skin types, we recommend our Nutrient Serum, a potent serum with healing marigold, soothing houseleek and ultra-moisturising hyaluronic acid.
How to combat oily skin for men??
If you suffer from oily skin, it's best to stick to lighter textures. Opt for a gel-based cleanser over a cream cleansing gel to help balance the skin. Look out for a lighter moisturiser too.
Our refillable antibacterial Purifying Cleansing Gel contains Alpine willowherb, hyaluronic acid and masterwort root to soothe and clarify the skin, leaving the skin hydrated and balanced.
Follow with a purifying toner to help balance the skin. Double cleanse to remove all dirt particles and other impurities. Containing a herbal compound of masterwort root and Alpine willowherb as well as apple extract, our Purifying Toner works to balance and clarify the skin without drying it out. Finish with a light moisturiser such as our Invigorating Face Gel, specially formulated for men's skin.
How to tackle blackheads on men's skin?
When it comes to men's skincare, blackheads are often a key concern. Masks are a great way to tackle your targeted skin problems. If you're struggling with blackheads, masks are your friend.
To harmonise the production of sebum and to support the deep cleansing of the skin, we have developed a Purifying Clay Mask with white clay and aloe vera. These two ingredients are decongestants and have powerful antimicrobial activity. Willowherb and cucumber essences refine and minimise pores, eliminating blackheads.
To get the most from your mask, we recommend you apply our Enzyme Exfoliator prior to mask application to remove dead skin cells and help clarify any areas of congestion.
What is hyperpigmentation and how can men prevent it?
Hyperpigmentation is an umbrella term that refers to any discoloration that may be caused by sun damage, acne scarring and melasma - darkened patches on the skin. Look out for products containing active ingredients like vitamin C, a powerful antioxidant that protects against damaging free radicals and helps tackle hyperpigmentation.
Our Pollution Skin Defence System is a 15-day face treatment combining the power of Vitamin C with two other highly efficient ingredients, ectoin and the co-enzyme Q10. Together, these three serums stimulate skin repair mechanisms, helping protect your complexion from harmful environmental influences and helping preserve its youthfulness and glow.
When it comes to pigmentation prevention, an effective skin protector is your friend. Always wear SPF, even on cloudy days. For best results, apply first thing in the morning as part of your daily skincare routine. We recommend our Body Protection Sunscreen, free from harmful ingredients and suitable for even sensitive skin.
Men's grooming: how to support skin pre/post shave?
Shaving can leave the skin hyper-sensitised, while also making it more vulnerable to harmful environmental influences and bacteria. This means it's essential to prep the skin before shaving and give it the after-care it needs to soothe and calm the skin post shave.
Here are the steps we recommend to avoid any redness or irritation when shaving.
Step 1: Prime the skin Before you shave, it's a good idea to prime your skin to avoid irritation. Cleanse with our Invigorating Cleansing Gel or Soothing Cleansing Milk, rinsing with lukewarm water to avoid stripping the skin.
You might like to follow with our gentle yet effective Enzyme Exfoliator formulated with fruit acids from apple, papaya and kiwi to remove dead skin without abrasives and gently exfoliate the skin. This step helps to avoid ingrown hairs or razor bumps.
Step 2: Apply softening shaving cream.After prepping the skin, apply a shaving cream to help soften your beard hair and stubble to allow for more precise shaving.
Our Shaving Cream can be applied with a shaving brush or with your hands. Containing a combination of witch hazel to soothe the skin and camphor oil to promote circulation, this shaving cream is anti-inflammatory to avoid irritation and redness. Added menthol has an antibacterial effect to protect the skin against bacteria and avoid breakouts.
Step 3: Hydrate with moisturiser Moisturising is essential after shaving to avoid dryness and tightness. Lock in moisture with a hydrating cream from our Men's Skincare range. For a lighter moisturiser choose our Invigorating Face Gel. If you need extra protection during the colder months, opt for our concentrated Invigorating Night Cream with ecotin and witch hazel.
Men's grooming: how to prevent ingrown hairs from shaving?
If you suffer from ingrown hairs, the best way to avoid them is to effectively prep your skin before shaving. Follow the 3 steps above to avoid ingrown hairs.
Following your shave, apply our After Shave Balm as the finishing touch. The balm's soothing botanicals including witch hazel and marigold prevent inflammation caused by ingrown hairs and protect sensitive skin from damaging environmental influences. Soothing vitamin E works to keep the skin protected, smooth and well moisturised.
Natural skincare for men: how to know which are the right products for you
We develop our formulas using a blend of effective active ingredients for all different men's skin types for both daytime and evening use. All the products in our Men's Skincare range are non-comedogenic with a unisex menthol scent and a light texture that absorbs easily into the skin.
If you have dry or irritated skin, look for soothing and hydrating ingredients like those found in our Hyaluron Serum, containing an intelligent combination of large and small hyaluronic acid molecules to provide long-lasting hydration for plumper, firmer skin.
Susanne's favourite ingredient, ectoin, can be found in our Age Preventative Skincare line. Layer our Rejuvenating Night Cream with a serum to help protect and regenerate the skin while you sleep. For oilier or combination skin try our Invigorating Face Gel with a lighter consistency for long-lasting hydration. This is your go-to if you prefer the feel of a lighter or gel moisturiser.
Our philosophy of clean, science-led ingredients packed with active ingredients means you can have a simpler, more effective skincare routine that slots easily into your daily routine. Enjoy fuss-free, all-natural skincare with our Men's Skincare range.
Need help choosing the right products for your skin? Don't hesitate to contact our customer services team by email or on our social media platforms and we will do what we can to help find the right products for you.
Shop Men's Skincare