3 Essential Ways to Support Your Skin During a Detox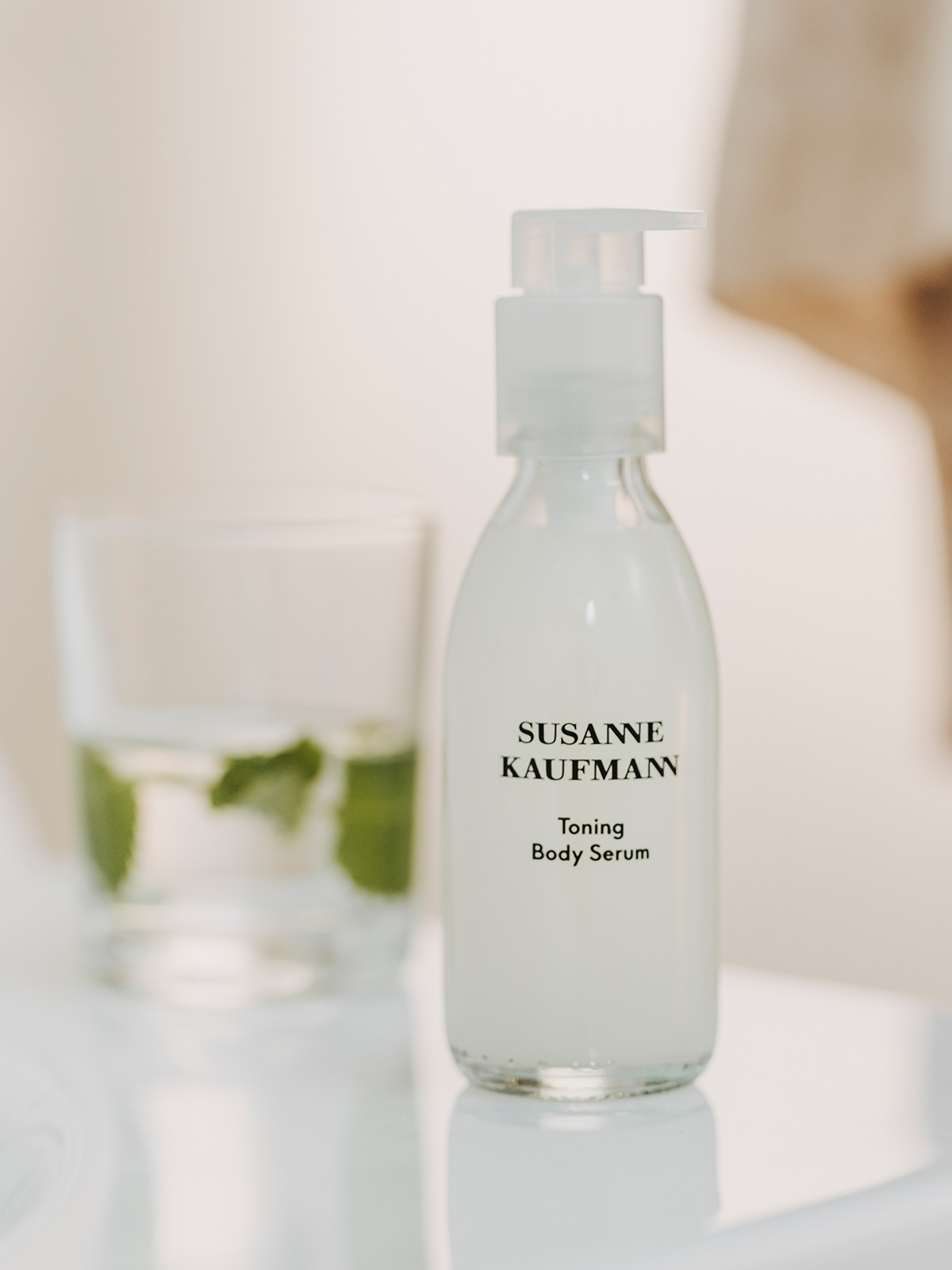 Fight blemishes and help your skin glow with Susanne's go-to detox skincare.
At Susanne Kaufmann, we understand that a skin detox means treating the skin from the outside. An effective detox routine will help to lift away dull, dead skin cells and protect from pollutants that can cause excess build-up, resulting in healthier, more radiant skin.
Founder Susanne Kaufmann reveals her tips for detoxing the right way and the products she relies on to cleanse the skin and restore a beautiful glow.
Step One: Face
If toxins are emitted through the skin, impurities or areas of dry, irritated skin may occur. Susanne relies on these signs to signal the need for basic and gently clarifying care - with the following products at hand:
Alkali Salts
Mix a small amount (about ½ teaspoon) of our Alkali Salts in a bowl of lukewarm water to deacidify the water, and clean the face, neck, and décolletage with a soft washcloth or cotton pad. Be careful to avoid the delicate eye area.
Purifying Serum
During skin emergencies, Susanne favours the herbaceous complex contained in our Purifying Serum: including Alpine willow herb, burdock root, and linden flower water, which calms and clarifies the skin without drying out irritated areas.
Purifying Clay Mask
To harmonise the production of sebum during the detox process, and support the deep cleansing of the skin, Susanne uses the Purifying Clay Mask developed with white clay and aloe vera. These two ingredients are decongestants, while also being soothing and antimicrobial. Apply to the skin for no longer than 15 minutes and gently remove with warm water.
Step Two: Body
We see beauty holistically, and an effective skin detox is not complete without looking at the whole picture - and the whole body. To get the best of your skin detox, cleanse the skin from head to toe.
Our Refining Scalp & Body Scrub creates a wonderfully cleansing full-body treatment. Using natural exfoliants to gently buff the skin and hydrating plant oils to moisturise, the skin is left smooth and impurity free. Apply the scrub on dry skin, gently massaging into the scalp and skin. Then, rinse thoroughly with water.
Following showering or bathing, use our Ginger Body Oil on moist skin, creating a water-oil emulsion. This oil uses the known properties of ginger root extract to help flush out toxins and improve skin softness - the perfect end to your detoxifying body care.
Step Three: Diet & Exercise
You can provide extra support to the skin by eating fresh, natural foods to help eliminate toxins, along with staying hydrated throughout the day. Drinking enough water is not only healthy but promotes a glowing complexion. Susanne also likes to drink freshly squeezed juices to nourish her skin:"I give my body energy every morning with a glass of freshly squeezed ginger and lemon. The nutrients help revitalise the complexion and illuminate the skin."
Drinking unsweetened tea is just as effective. Treat yourself to a cup of our Detox Tea every morning to stimulate your metabolism. Featuring the antioxidant benefits of rosehip leaf and marigold, this tea helps restore energy and unlock a radiant glow with every sip.
Likewise, regular exercise ensures greater well-being and has a positive effect on the health of our skin. And maintaining the effects of exercise, your pre and post-exercise routine is as important for optimal skin health. Great to apply before a workout, our Toning Body Serum uses jiaogulan plant, rockrose and moth bean extracts to strengthen the skin barrier for a firmer appearance. Susanne recommends to wear under compression leggings to boost its skin-smoothing effect. 
To learn more about detoxifying skincare, discover our expert suggestions for an effective skin detox.