How Arnica Oil Helps to Prevent Stretch Marks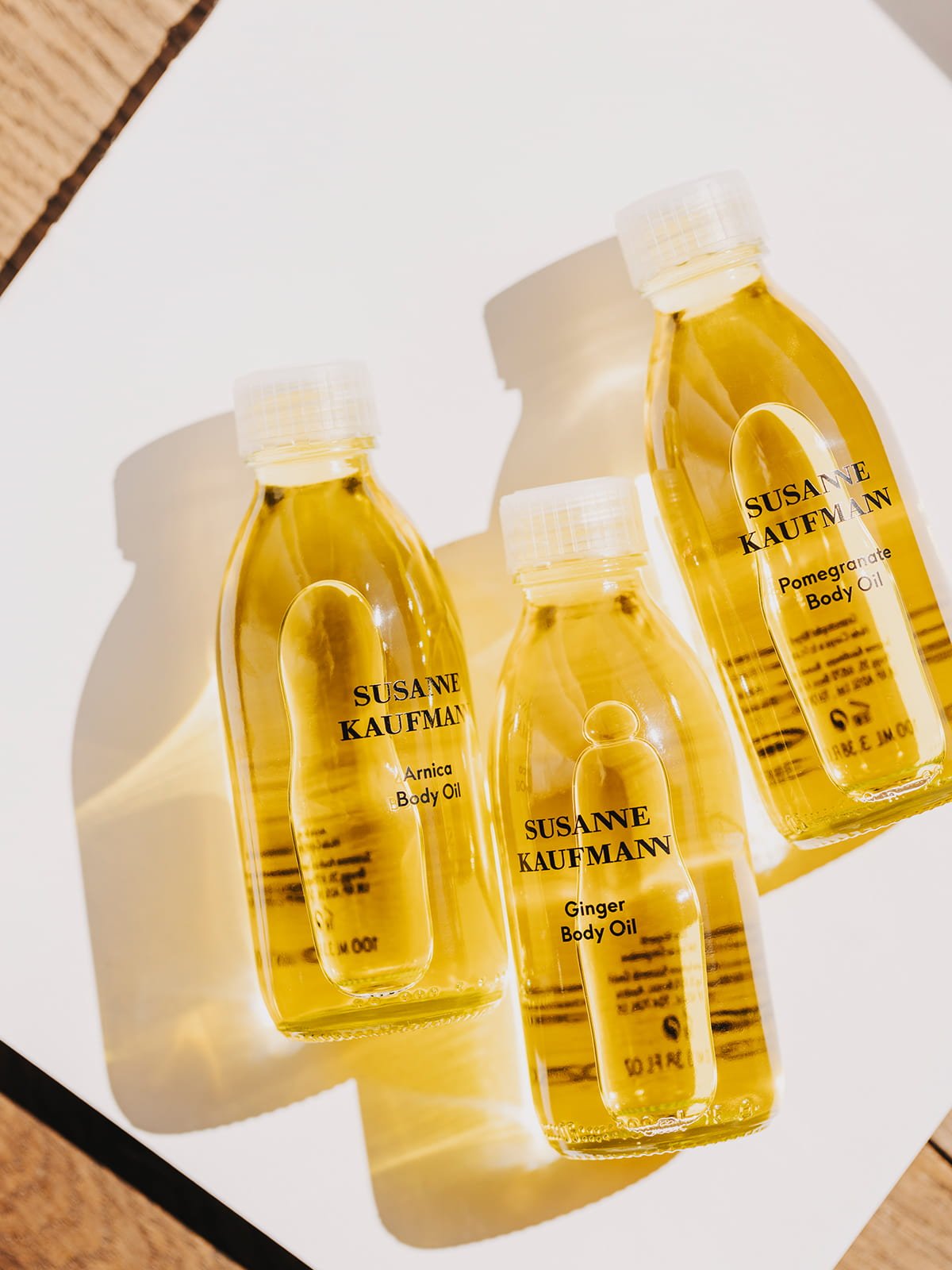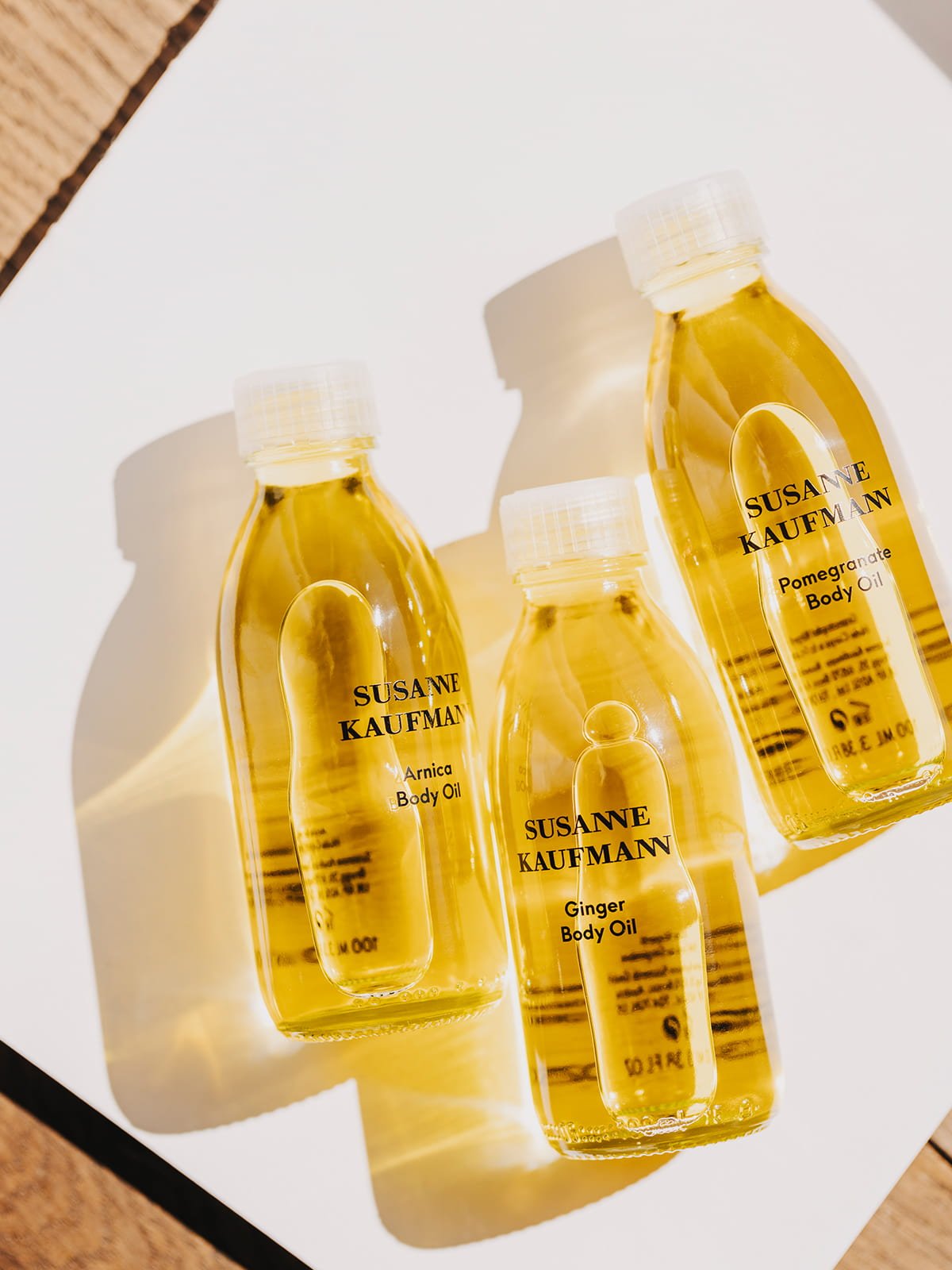 Read on to discover the full benefits of our body oil and how to treat your stretch marks during pregnancy and post-pregnancy weight loss.
As your beautiful bump grows, stretch marks are inevitable. Luckily, one way to help prevent stretch marks is with Arnica Body Oil. This precious oil has been specifically developed for pregnant women – and is safe to use throughout each trimester.
Shop Body Oils
What Causes Stretch Marks?
Stretch marks occur when the skin stretches or shrinks quickly, causing our natural collagen and elastin to break. Then as this skin heals, stretch marks are formed. Whether caused by pregnancy, weight loss or hormonal factors, stretch marks will appear different for everyone due to our skin elasticity levels. However, white stretch marks, in the shape of thin lines, are more commonly associated with pregnancy. While most visible on the stomach, they can also appear on the lower back, upper arms and buttock area, making full-body care an essential.
How Do I Prevent Stretch Marks?
During pregnancy, health is the ultimate priority, particularly for your little one. When it comes to skin, we see things holistically and encourage all-around healthy choices. A well-balanced diet and regular hydration are the first steps to well-balanced skin, alongside regular exercise to help stimulate natural collagen – ideal for reducing the look of stretch marks. Using daily sunscreen and reducing your UV exposure are also fundamental. Sun damage can cause skin problems like hyperpigmentation and scarring, making stretch marks harder to treat.
Lastly, a skincare regime tailored to your changing needs is essential. We recommend highly nourishing products, such as body oils, to care for your skin throughout pregnancy.
What Products Can I Use When Pregnant?
Why Use Arnica Oil for Stretch Marks?
If you're looking for the perfect stretch mark oil, think arnica. Derived from a plant, the use of arnica stretches back to the 15th Century. Effective in treating a wide range of conditions, including stretch marks, its known anti-inflammatory properties help to soothe, calm and nourish the skin.
Our Arnica Body Oil heroes this botanical, using a powerful extract with a complementary blend of almond oil, jojoba oil and wheat germ oil. This fatty acid-enriched formula helps cell regeneration and strengthens natural functions, working to reveal a more even-toned appearance.
"Just perfect! 27 weeks pregnant and no stretch marks."
Asta, Susanne Kaufmann customer
How to Use Arnica Oil for Stretch Marks?
This gentle aromatic oil is perfect for your daily bathing or showering ritual. Simply massage into moist skin after washing to create a water-oil emulsion. Then sit back, relax and experience super-soft skin.
Looking for a more intensive treatment? Introduce our best-selling Body Butter and Arnica Body Oil into your body care. Working effortlessly together, layer the oil under this rich cream to thoroughly lock in moisture. Helping with stretch marks and damaged skin, our Body Butter is the perfect pregnancy companion, improving elasticity with its natural honey-enriched formula.
Your Tailored Pregnancy Routine
Oils For Pregnancy & Beyond
Whatever your life stage, the advantages of body oils are plentiful. Our collection features a blend of precious oils to unlock optimal skin health.
Great to care for post-baby skin, our Pomegranate Body Oil features pomegranate seed, helping to aid cell regeneration for firmer skin.
Experiencing signs of dryness? The nutrient-rich Marigold Body Oil offers an intense hydration boost to reveal ultra-smooth skin. And if you have a mum-to-be or new mum in your life, our limited-edition Marigold Body Oil Deluxe Miniature makes for the perfect gift.
New Mums and Mums To Be Skincare