What Skincare is Best for Summer?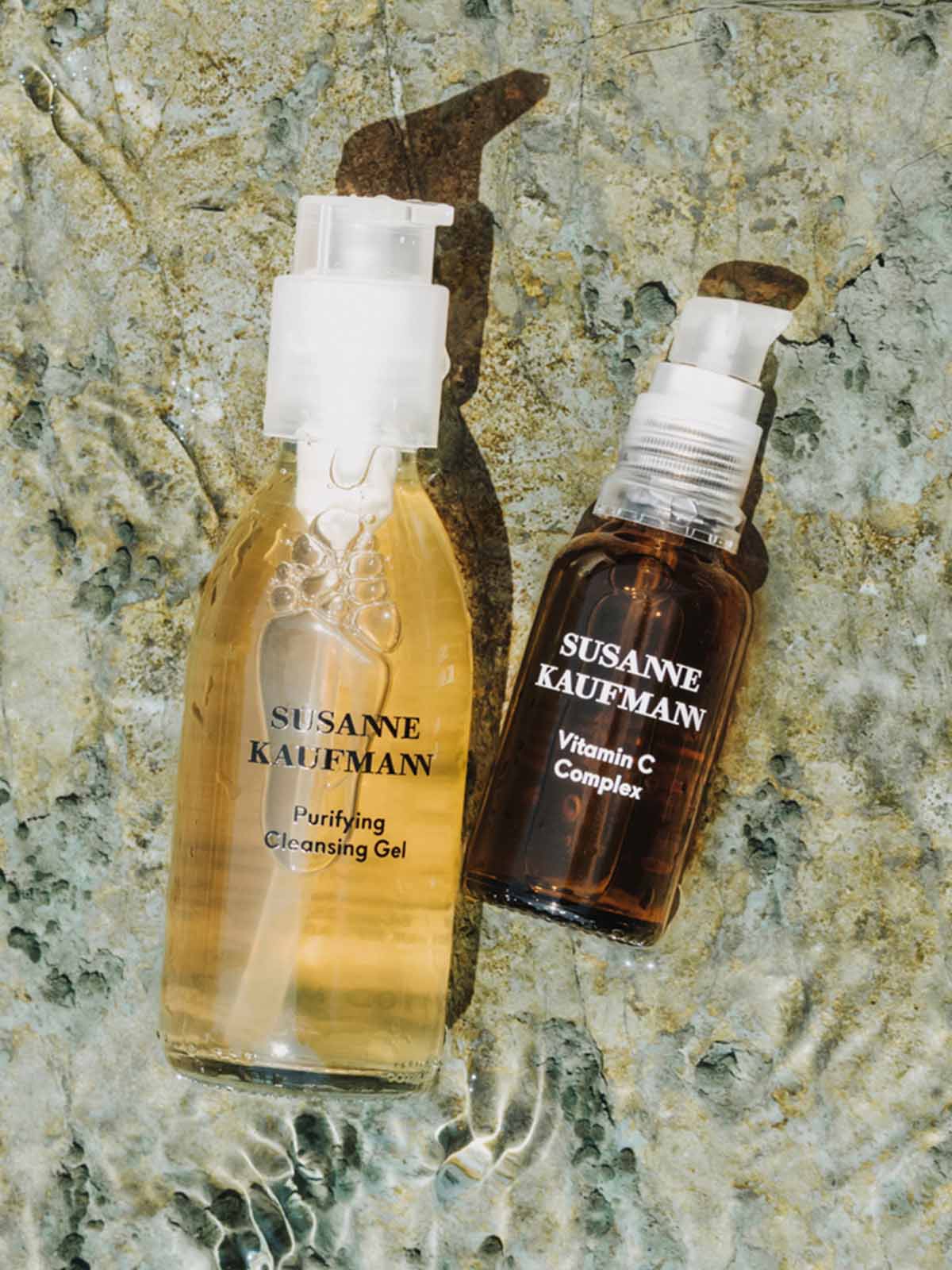 Tackle hot-weather skin concerns with targeted face and body products.
From prolonged sun exposure and harmful UV rays to the ever-changing weather, such as humidity and dryness, our skin can be affected drastically in the summertime.
So, to feel and look your best this season, we recommend enhancing your routine with targeted hot-weather care. Whether you are seeking summer skincare essentials or a spa-inspired moment, read on to discover the most effective natural face and body products for this season.
Explore Summer Skincare
Cleansers: To Prevent Weather-related Blemishes
The warmer weather can increase sweat, SPF, and oil production – meaning cleansing is essential. Susanne's signature double-cleansing technique is an intensive way to clarify and balance the complexion while lifting impurities. First, use Deep Cleansing Oil on the face, neck, and décolletage. Then, with wet hands, apply Purifying Cleansing Gel on top and lather in using circular motions. For dry skin, add Soothing Cleansing Milk instead after the oil – but remember to always remove the oil first if SPF or make-up is worn.
Toners: To Balance a Changing Complexion
Opt for a toner as the last step in your summer cleansing routine. Creating a wonderfully refreshing feel on the skin, the Soothing Toner uses hyaluronic acid to replace lost moisture – ideal to treat dry skin in the summer. Combination or oily skin? Purifying Toner helps to re-balance the complexion, using Alpine willowherb to fight impurities caused by increased oil production.
Serums: To Help Signs of Hyperpigmentation
Hyperpigmentation can heighten in the summer, so look to skin-balancing serums for optimum support. Proven to improve tone*, Vitamin C Complex helps to strengthen the skin against stressors, such as UV rays, increasing luminosity for a more radiant, balanced complexion. To use, add a few drops to the face, neck, and décolletage every morning and evening.
To double up your all-over glow, apply Hyaluron Serum as well. This efficient hydrator delivers pure moisture into the skin with its hyaluronic acid-enriched formula. Plus, its feather-light texture makes it comfortable to wear throughout the day and underneath your moisturising care.
*Based on an independent study of 112 participants who identified their skin concerns as hyperpigmentation, dry skin, dull skin, dehydrated skin, fine lines, and wrinkles.
Moisturisers: To Treat Dry or Oily Skin
When it comes to a moisturising routine, lighter days mean lighter products. Look to oil-free formulas and gel-like textures and get the best out of your skin in the summer months. Designed to be thin enough to sit under SPF, Moisturising Day Fluid uses a blend of jojoba oil, tomato fruit extract and squalene oil derived from olives to control excess sebum. Then, for those experiencing dry skin in the summer, Hydrating Face Gel is a highly effective choice. Featuring a snow mushroom extract, this silken moisturiser supplies long-lasting hydration for a plump, fresh look.
Exfoliators: To Care After Swimming
Prolong that holiday glow with regular exfoliation, such as an Enzyme Exfoliator. This mild treatment gently lifts remnants of SPF and impurities associated with pools or beaches, revealing a clear, illuminated complexion. To use, apply a thin layer over the face, leaving for 15 minutes before rinsing off. The fruit-enriched formula also creates a refreshing sensation – great after long days in the sun. However, remember to take care when using and avoid exfoliating on irritated skin.
Masks: To Soothe Post-sun
There is nothing more refreshing than a face mask in summer. Supplying the ultimate cool down for humid days, masks provide both a moment of hydration and self-care. Infusing the skin with moisture, Boosting Liquid Mask plumps the skin with its unique use of Swiss apple stem cells, prized for their longevity. For a parched complexion, Moisturising Mask feeds the skin with a blend of hyaluronic acid to replenish moisture levels, making a great post-sun exposure treatment. Prone to breakouts? Try a Purifying Clay Mask. The spa-like facial utilises the properties of white clay to unclog pores and absorb excess sebum.
Body Care: To Nourish in the Summer
We believe the body and face deserve the same level of care and this is no less important in the summer when more skin is exposed.
Much like with face care, hyaluronic acid is key to include in your summer body routine. As featured in the Summer Skin Collection, Hyaluron Body Gel utilises this ingredient to instantly hydrate skin post-sun and soothe itchy skin after showering, which can occur more often in summer. Showcased as well in the Toning Body Set, this hyaluronic acid-infused serum and cream work together to create smoother, supple skin and increased body confidence.
A nice, head-to-toe glow comes naturally using a body scrub. The Refining Body Scrub uses fine sea sand and pumice powder to remove dead skin cells and leave an excellent base for a natural tan.
And do not overlook the powers of natural deodorants, such as the Deodorant Roll-on. A barley-infused blend nourishes the delicate underarm skin and keeps odours at bay – a necessity for hot weather.
Susanne's Go-to Skincare Summer Tips
Supporting an effective, consistent skincare routine, Susanne recommends eating fresh fruit and vegetables, using SPF and being mindful of your sun exposure, as a holistic approach will ultimately maintain a healthy glow all summer long.
Shop Summer Skincare