How Does Sleep Affect My Skin?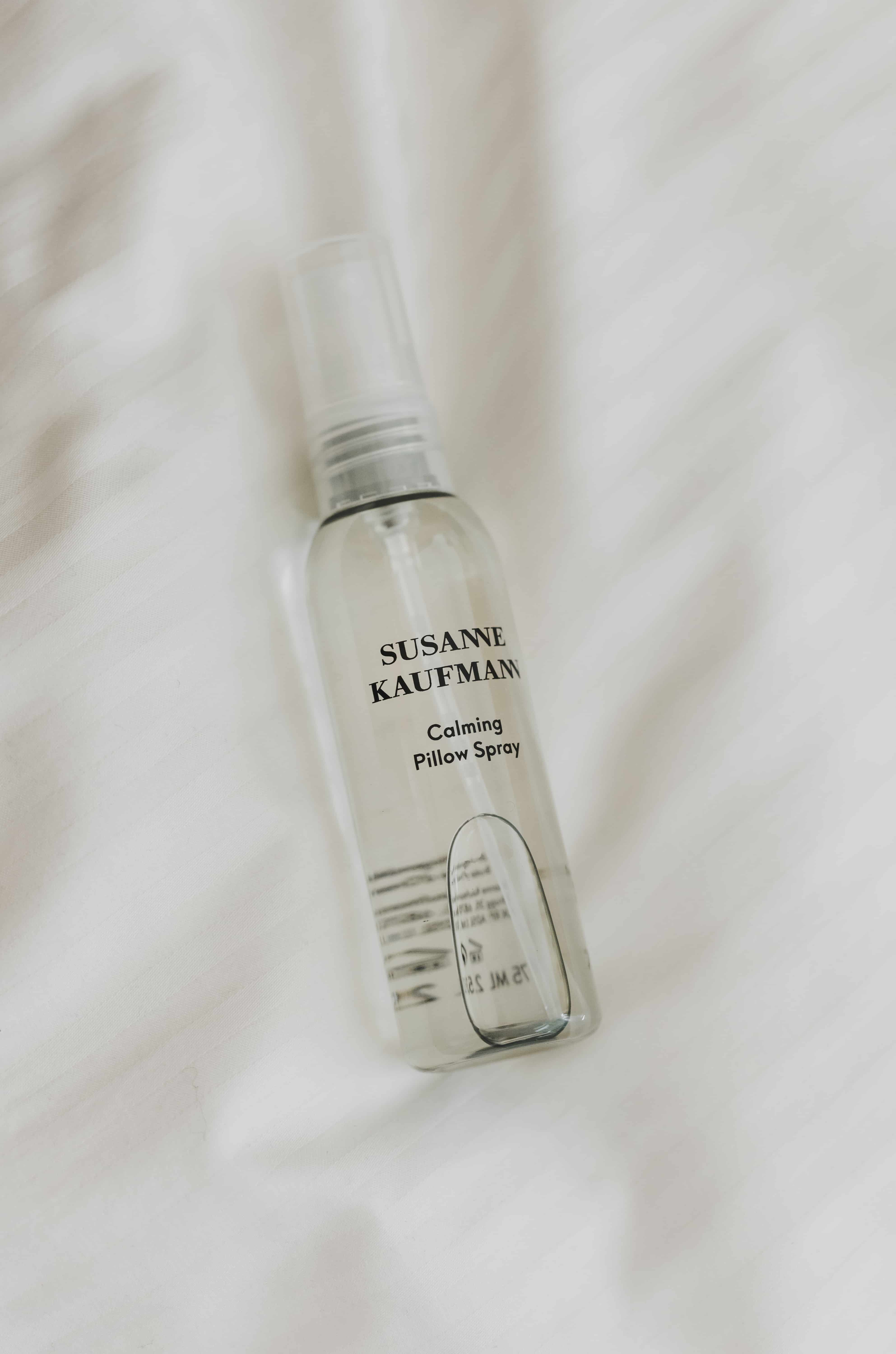 Uncover the importance of beauty sleep with our top tips.
At Susanne Kaufmann, we believe in treating the skin by caring for the inside out – and this includes a good night's sleep. Research shows that sleep plays a crucial role in skin health, resulting in a more energised-looking complexion.
From the right skincare to ways to relax, discover our holistic well-being tips to ensure more restful nights and wake up beautifully refreshed.
Shop Our Well-being Essentials
Why is Sleep Important for the Skin?
Experts recommend seven to nine hours of sleep for an important reason; to maximise the metabolism process.
At night, the skin's metabolism runs at full speed and receives a lot of oxygen. This means cell renewal is up to three times faster at night than during the day. As cells regenerate, the body rids itself of excess waste products and increases the production of collagen and elastin. These ensure the elasticity of the skin and give a fresh, plump complexion.
How Do I Support My Skin's Nightly Regeneration?
Treat your skin to an effective evening care routine with our gentle product formulations, designed for every skin type.
Step One: Cleansing
No matter how tired you are, thorough facial cleansing is important. We recommend an effective double cleansing, as loved by our founder Susanne Kaufmann. Start by applying our Deep Cleansing Oil to dry skin on the face, neck and décolleté and massage gently. Then, on top, apply the Purifying Cleansing Gel. Gently massage both products into the skin, rinsing off with lukewarm water. Lastly, use the Soothing Toner to lift dirt and brings the complexion into a healthy balance.
Step Two: Serum
In the next step, provide your skin with intensive moisture. Our lightweight serums penetrate deep into the skin to provide effective care. Each of our serums meets a specific need and offers tailored care for your skin condition.
Step Three: Night Cream
Due to the increased cell renewal, the skin can absorb regenerating active ingredients, particularly well at night. From soothing benefits to anti-oxidant effects, we developed our rich night creams based on the night-time needs of the skin.
Support your skin's night-time repair processes with the Nourishing Night Cream for dry or sensitive skin, the Moisturising Night Cream for combination skin or the Rejuvenating Night Cream to reduce fine lines and wrinkles. Then, for mature or damaged skin, our Renewing Night Cream is the perfect solution.
How to Have a Restful Night
Sometimes it is difficult to switch off and sleep well after a stressful day. However, with a few simple tricks you can promote a peaceful slumber.
Tip One: Switch Off
Disconnect from digital: "Stop the use of all digital devices at least an hour before you go to bed. Blue light suppresses the body's release of melatonin, a hormone that makes us feel drowsy and tells the body to wind down for sleep." – Susanne
To help switch off mentally, make a to-do list that you can refer to the next day and counteract circling thoughts. Small rituals also help to signal to the body that it nearing time for bed - this can be a cup of tea, a relaxing bath or even your evening skincare routine.
Tip Two: A Calm Bedroom
Regulate temperature: "Before bed, our body temperature starts to cool while the skin temperatures of our hands and feet increase. A warm foot bath helps to regulate this natural process and brings the energy down from the head, detoxifying through your feet." – Susanne
Create a calming, relaxed atmosphere in the bedroom to help you easily drift off. A cooler temperature in the room helps because when the body temperature drops from a higher level, you fall asleep faster.
Reducing your blue light exposure is also fundamental to a good night's sleep, as Susanne explains: "Go offline once a week and devote yourself to a good book instead. As a general rule, avoid digital devices in the evenings to avoid exposure to blue light, which can disturb your sleep."
Tip Three: The Right Pillow
While we sleep, the skin breaks down unnecessary metabolic products which leave the body through the lymph flow. This means you should pay attention to your pillow and opt for one not too thick to avoid buckling while you sleep, which would prevent lymphatic drainage. A side effect of this includes the appearance of puffy eyes and a bloated face. Spritz our Calming Pillow Spray onto your pillow just before bed and let the soothing aroma help you drift off into a peaceful slumber.
Tip Four: Your Sleeping Rhythm
If possible, we encourage keeping to the same sleeping and waking times each day. In this way, your body already adjusts to the inactive and active phases and knows when it is time to sleep. Avoid afternoon naps and lie-ins on weekends as this can throw off your body's rhythm.
Tip Five: Daily Exercise
Calm the mind: "If you live in a big city I recommend meditating, practicing light yoga or drinking a calming tea before you go to bed to help your mind unwind so you can drift more easily into a peaceful slumber." – Susanne
Exercising during the day is beneficial to encourage sleep at night. However, it is best to leave a few hours between your workout and bedtime. The adrenaline rush can keep you awake and shorten the duration of your sleep.
For more ways to relax at night and promote your forty winks, discover a tailored body care ritual for restful sleep.