How to Revitalise Your Skin in Less than 20 Minutes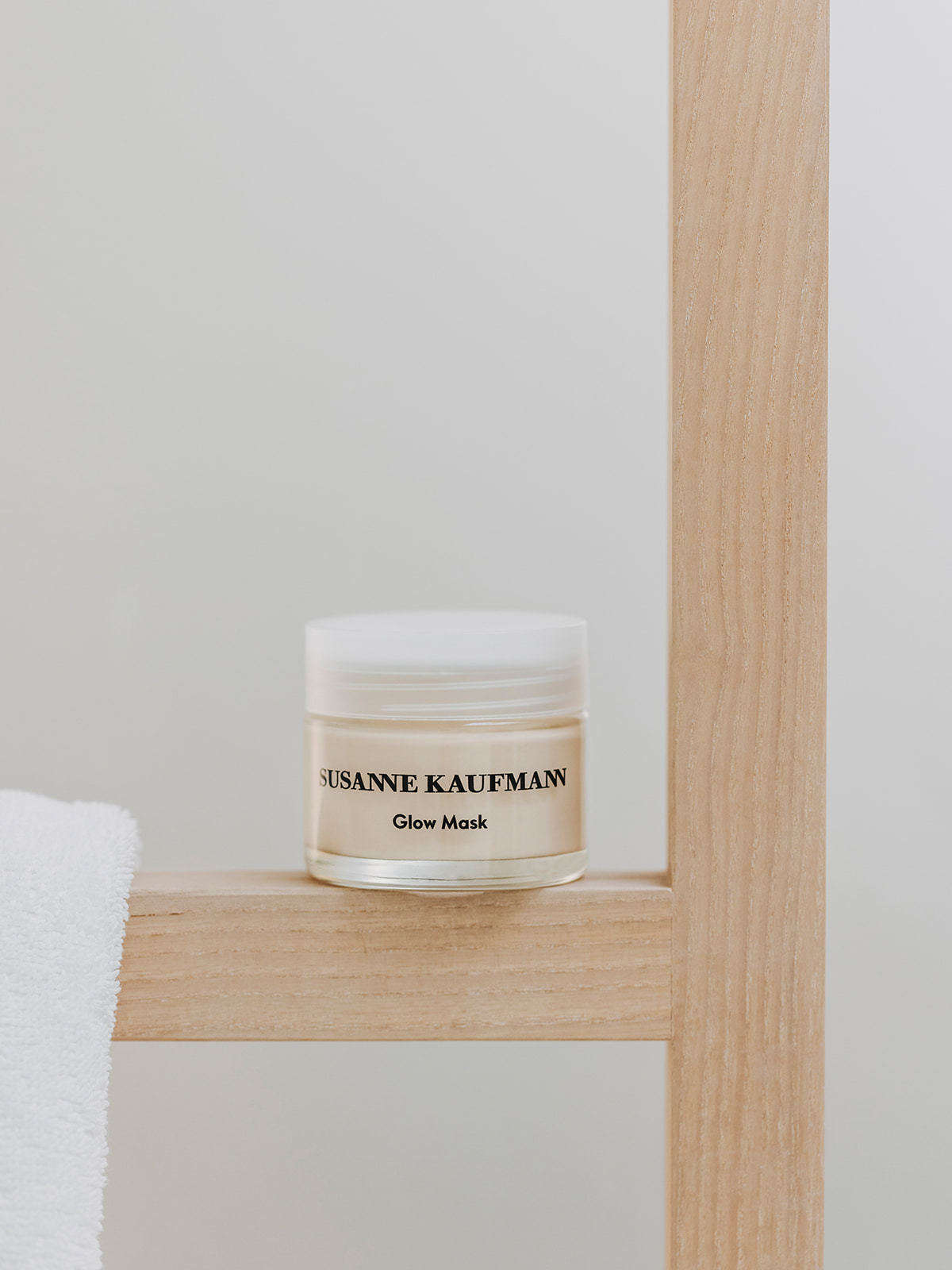 Read our guide to finding the perfect face mask for you.
Many face masks are in competition with waters, gels, or serums, and have a relatively lonely existence on the product shelf. Quite to the contrary, our experts at Susanne Kaufmann confirm that masks contain the highest concentration of active ingredients, which are absorbed by the skin in a very short time, meaning it can benefit from their effects quickly. And, of course, a little break is good for everyone. With that in mind, we have put together a short guide to face masks for you.
Selection. A face mask that suits the skin type or the current skin situation is the homerun for an effective treatment.
A pale and tired complexion needs revitalizing ingredients that stimulate and radiate the skin. The Glow Mask helps to achieve a fresh and youthful complexion. Complete with anti ageing and circulation-boosting ingredients, the Glow Mask works to renew and regenerate the skin. Papaya powder acts as an enzymatic peel, active ingredients from ginger and coffee stimulate cell metabolism, an extract from the raspberry plant improves skin moisture and the active ingredient of date extract enhances the antioxidant defence system of the skin and increases cell protection. After just 15 minutes, the Susanne Kaufmann Glow Mask gives an overwhelming feeling of freshness and renewal.
Susannes tip: "I created this mask to start the day with a radiant glow. I prefer to use the mask in the morning - it's the perfect kick for the skin."
Dry skin needs moisture and valuable lipids. Our experts stress the effects of moisturising, plant-based hyaluron, tissue-strengthening hazelnut oil and beeswax, and moisturising wheat germ oil and pansy extract, which makes the skin supple and gives it a soft, glowing complexion. The Susanne Kaufmann Moisturising Mask combines these ingredients, and takes only ten minutes to take effect.
Stressed skin is satisfied with soothing and very gentle ingredients such as St. John's Wort, nourishing marigold, and pore-refining fireweed. The Susanne Kaufmann Calming Mask is based on this herbal complex, which is supplemented with moisturising wheat germ oil and smoothing shea butter. The soothing mask only needs about 15 minutes to harmonize your stressed skin.
For oily skin, use masks with ingredients that regulate sebum production and balance the skin. Here we rely on the deep-cleaning power of white clay (kaolinite) and have combined this into the Susanne Kaufmann Purifying Clay Mask with willow herb and cucumber essences. Added corn germ oil helps to clear the skin and balance sebum production.
Mature skin needs active ingredients to tighten and help to better retain moisture. In all of the Susanne Kaufmann Anti Ageing Products, the ectoin cell protection shield plays a key role, as it stimulates the skin's own collagen production and delays skin ageing. In the Power Mask, we supplement this intensive active ingredient with fermented lupine seed extracts to strengthen the tissue, in addition to precious argan oil, which contains a high proportion of essential fatty acids and has a strong antioxidant effect.
Use. Facial masks contain active ingredients in highly concentrated forms. Therefore, it is necessary to optimally prepare the skin. This includes thorough cleansing with products made specifically for your skin type to remove makeup and other skin-care products. This is followed by gentle exfoliation that removes dead skin cells and helps to open the pores. Our tip: Before applying the mask, soak in a relaxing bath or arrange a pleasant relaxation place. Then lay a warm washcloth on your face for about two to three minutes. This opens pores and makes your skin more receptive, and you may feel a little more relaxed.
Application. For face masks, the motto is "less is more!" Apply only a thin layer of the mask with a brush or skin care spatula. Stick to the prescribed leave-on times, which are between ten and 20 minutes for our products. Our tip: Often it is the case that skin has different needs depending on the area, especially the skin of the face. The T-zone is rather shiny, with deeper nasolabial folds, whereas the cheeks are dry, and around the eyes are shadows or slight wrinkles. Simply indulge your skin with a different mask for each facial area. For an intensive treatment around the eyes, you can also simply apply your eye cream a little thicker and leave it to work.
Removal. To remove the mask, use a soft tissue or a very soft, warm washcloth. However, do not try to rub, but instead gently dab the excess mask off your face. It is best to remove small residues with only water and your hands. Finally, a few splashes of cold water on the face will provide extra freshness. Our tip: Pamper your skin afterwards with a coordinated serum to support the effects of the face mask.