How to Prevent Tired-looking Eyes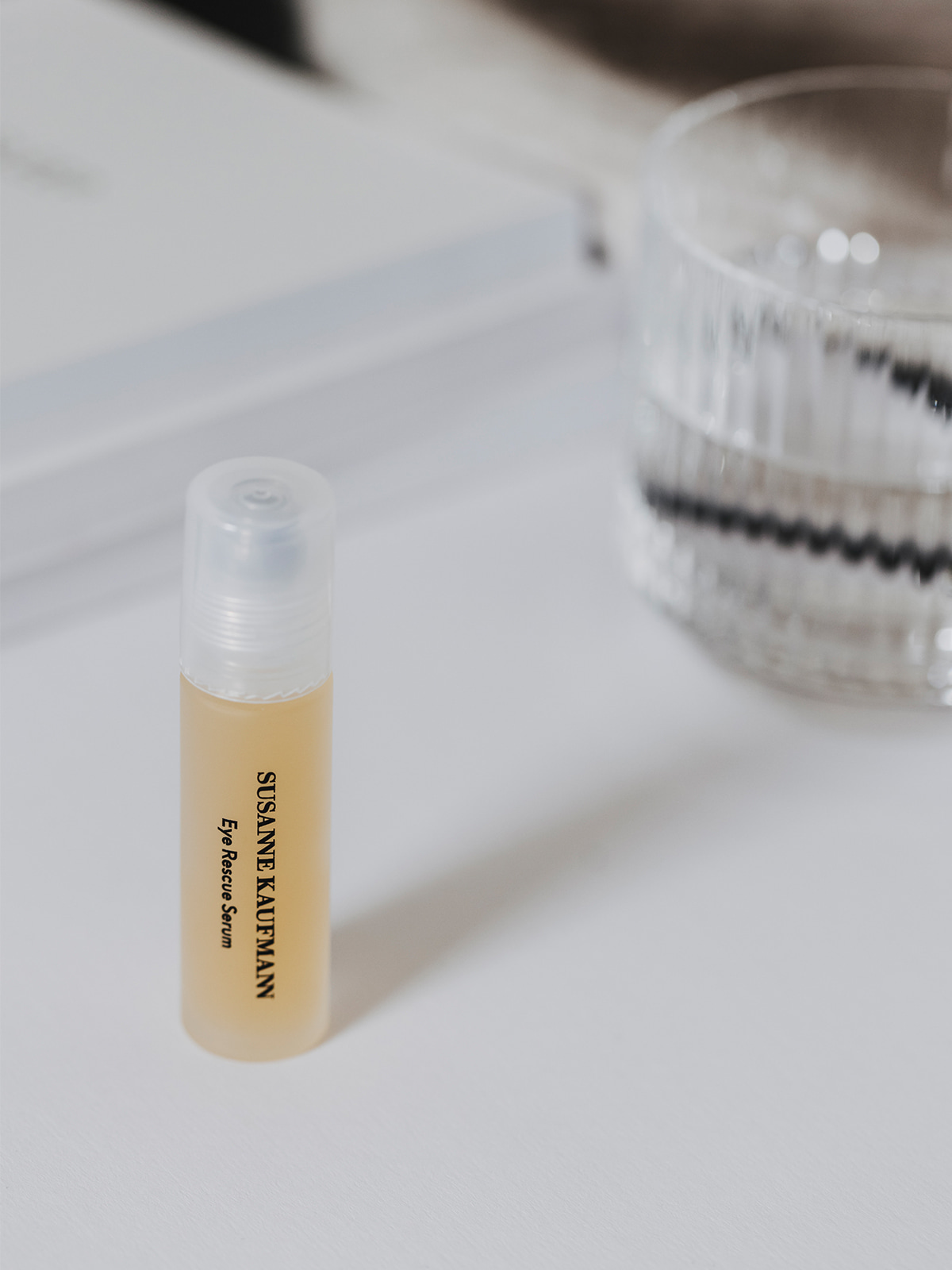 Say goodbye to tired eyes with the Eye Rescue Serum.
Our eyes are the window to our soul and they reveal a lot about how we are living our lives and how we are feeling at any given moment. We put the delicate skin around our eyes through rather a lot day in, day out. Our facial expressions cause fine lines to appear around the eyes. And the sun's rays and blue light from all our screens have a negative impact on the elasticity of the skin. So we really do need to take good care of that sensitive area around our eyes. And we can do just that with an effective product that's now available in a handy roll-on version. Susanne Kaufmann has combined three incredibly powerful active ingredients in the Eye Rescue Serum. Tired eyes will be revitalised in virtually no time at all.
Skin care: All you need is one or two gentle strokes of the handy roll-on serum under the eyes, making sure you work from the outside in, and this amazing product will start to work its magic. It has a lovely cooling effect and can be relied upon to relieve slight swelling. The small roll-on ball gently massages the skin and boosts microcirculation, getting rid of fluid and waste products that have accumulated around the eyes more quickly. Your skin will be left feeling refreshed before you know it. Plus, it'll feel firmer with a lovely touch of extra moisture.
Effect: Good things come in small packages! Susanne Kaufmann has combined three active ingredients in the Eye Rescue Serum: A powerful active ingredient from the baobab tree with an instant lifting effect, caffeine from green coffee beans to stimulate blood circulation and encourage the reduction of water retention, and jasmine and hawthorn with flavonoids that unleash an anti-inflammatory effect and get rid of dark circles under the eyes.
Use: Gently roll the stick from the outer corner of your eye to the bridge of your nose every morning. Lightly pat in the serum with the tips of your fingers for an extra boost of freshness. Try popping your Eye Rescue Serum in the fridge for a bonus cooling effect that will reduce swelling and leave your eyes feeling refreshed. The Eye Rescue Serum is suitable for all skin types and works really well in combination with the Age Preventative Skincare serums.
Susanne's Top Tip: Double Up on the Eyes
"I highly recommend combining the cooling Eye Rescue Serum with the Rejuvenating Eye Cream. I apply the serum under my eyes and then smooth a little bit of the eye cream on my upper eyelids and the outer corners of my eyes. This combination gives me a wide-awake look and combats fine lines and wrinkles that usually appear as a result of dryness."
You can buy the Susanne Kaufmann Eye Rescue Serum (10ml) online or from any of your favorite Susanne Kaufmann stockists.