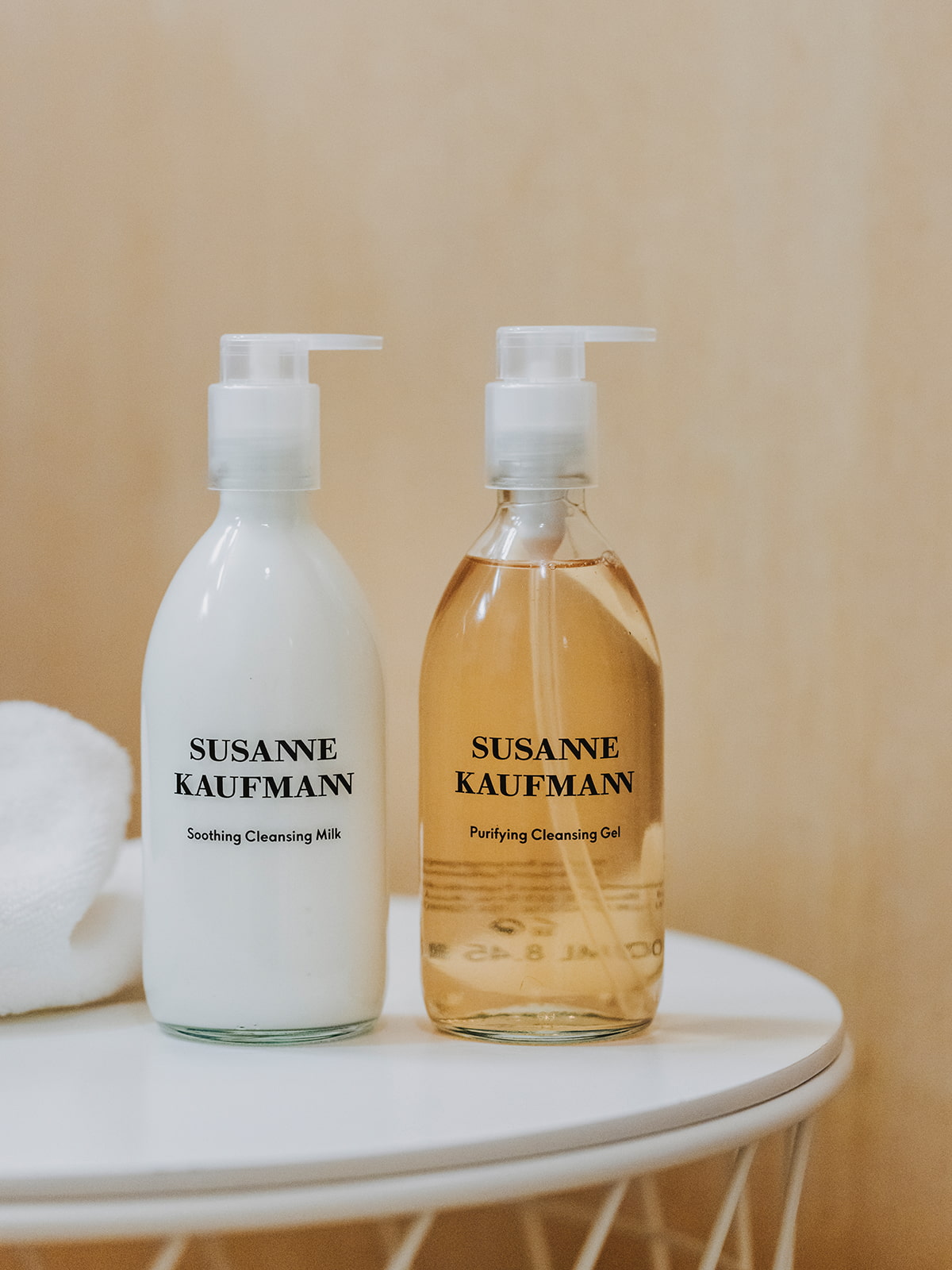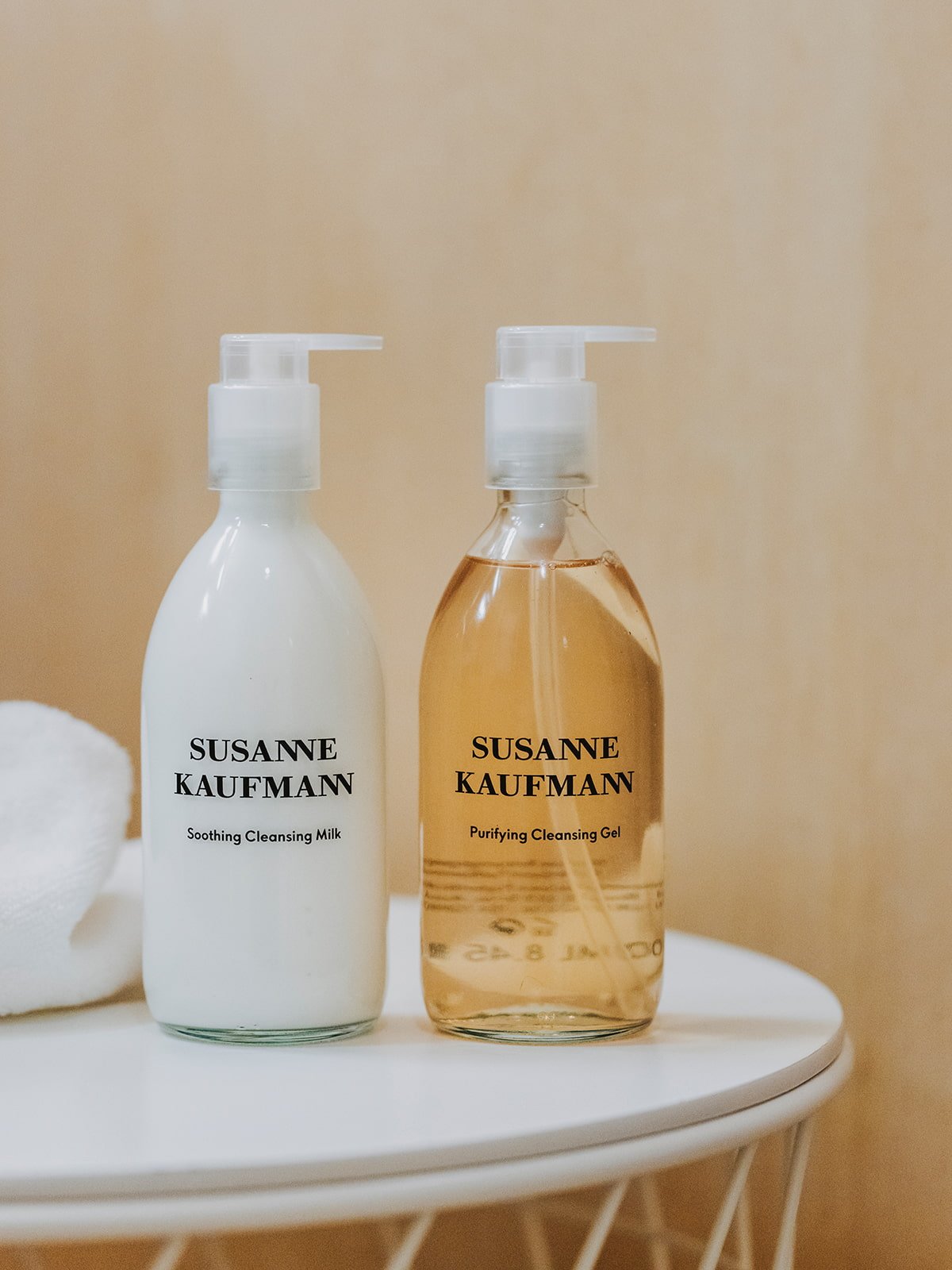 Discover our beauty and lifestyle resolutions for the new year.
Food for the skin: Don't forget to nourish your skin from the inside! When selected carefully, freshly pressed juices and smoothies can give you a beautifully healthy glow. Certain vegetables that are rich in vitamins A, C, and E as well as antioxidants can really rejuvenate your skin. If you're looking to maintain the skin's elasticity and resilience, go for foods that promote collagen production, such as chicken, a classic bone broth, and citrus fruits, which contain plenty of vitamin C to help the body form procollagen. Read more here.
More Time for You:
Some call it "hygge," others call it homeyness, and we say it's time for a home spa. It's all about taking some time to treat yourself to a relaxing evening of home spa treatments in the comfort of your own bathroom. And, because we like to keep things practical, you can easily incorporate any of the tips into your daily beauty routine too.
Tip number 1:
Double cleansing. The best way to kick off your evening of beauty is by giving your face and body a deep cleanse. This will prepare your skin for all the lovely pampering it is about to be treated to. The "double cleansing" approach is a great way of clearing your skin of makeup, dirt particles, and sebum. Start by removing your makeup with a cleansing milk and then use a cleansing gel to wash your face thoroughly. Make sure you finish up here with a few splashes of toner, as this will get rid of any limescale residue in the water and prepare the skin for the rest of your skincare routine.
Tip number 2:
Pamper and nourish. After we've taken a bath or shower, our skin is crying out for indulgently nourishing treats. When considering moisturising options for your body, make sure you look out for ingredients like natural oils and wax. Many products contain mostly water, which just evaporates relatively shortly after it's been applied, leaving the skin feeling dry. Natural oils help maintain the skin's moisture levels, while providing an additional layer of protection.
Tip number 3:
Self-care routine. Consistency is the secret to success. Get into the habit of performing a five-minute ritual where you simply stop what you're doing, take a deep breath into your stomach through your nose, and breathe out very slowly through your mouth. It's best if you can breathe out for twice as long as you breathe in. Relax your facial muscles by pulling silly faces, pouting with your lips and scrunching up your nose. And if you want to experience ultimate relaxation in the evening and then refresh the area around your eyes in the morning, check out our Face Roller. Read more here.
A Holistic Approach to Life:
We all know by now that the perfect combination of exercise, nutrition, sleep, and skin care is the secret to looking beautiful. After all, as they say, "beauty comes from within." Here at Susanne Kaufmann, we are firm believers in this holistic approach to looking beautiful in the long term.
Exercise:
Whether you're reaching for your running shoes, bike, or yoga mat, getting sporty is one of the key ingredients to beauty. Once you get your heart rate up a little, blood flow throughout your body is improved, your muscles are strengthened, and your tissue is firmed up. Not to mention that sporty activities give our skin a lovely glow.
Nutrition:
If you're not giving your skin and hair the nourishment they need from the inside, creams and skin care products will only have a limited effect. A varied and balanced diet is the first step toward healthy skin. Protein, complex carbohydrates, healthy fats, and plenty of fluids, vitamins, and minerals will boost your healthy glow. It is often said that the skin is a reflection of your soul.
Sleep:
We spend a good third of our lives asleep. While we catch forty winks, our body regenerates, processes stress, consolidates anything new we have learned, and fights off illness.
Skin care:
Following a skin care routine tailored to you and your skin type equates to the finishing touch when it comes to looking beautiful. This will help you keep your skin healthy and protect against environmental influences. Read more here.
Effective Layering Every Time:
It's obvious that you need to apply the right amount of each product, but you may not realize that the order in which you use them has a significant influence on how effective they are. Make sure you follow this advice from our experts: "Start with the lightest product and wait about two or three minutes between layers." On the cleansed face, a base serum is applied as the first layer. This supplies the skin with intensive active ingredients. This is followed by a special serum, such as one with antiaging effects or for the treatment of individual skin conditions. The eye care is applied as the third layer. Only in the fourth layer is the day cream or regeneration care used – it seals in the previous layers, making the serums even more effective. If you use a facial oil, apply one to two drops as the fifth layer. Alternatively, mix it with your day cream or regeneration cream. As the final part of your morning routine, the sixth and last layer is a light sunscreen.
Better Protection for the Skin:
It's never been more important to protect our skin well against toxic fine dust, digital radiation, and the sun's rays. But what can city dwellers do to beat environmental influences such as smog and dust particles? Susanne Kaufmann advises a three-step ritual: Start with thorough cleansing in the morning and in the evening with a gentle cleansing gel or milk. Follow up by using toner and rich moisturiser appropriate for your skin type. In our products with skin cell protection, we rely on the active ingredient ectoin, which is extracted from algae. It repairs cells and supports the elasticity of the skin. To help the skin retain enough moisture, our formulas are supplemented with silk proteins and herbal hyaluronic acid.
Eye Product Perfection:
When we're tired or stressed, our eyes often give us away. They may not be as bright as normal and the area around them may look a little worse for wear. And if we get too much sun or don't get enough hydration, this may be reflected in wrinkles, rings, or dark shadows around our eyes. But our beauty experts at Susanne Kaufmann are here to help you get that twinkle back in your eye. The secret to effective eye care with results you can see in next to no time is choosing the right product. You need to make sure that you match the product to the current condition of your skin and consider what you want the outcome to be.
Non-greasy, cooling gels with soothing ingredients are perfect for sensitive eyes, for example. But if your eyes tend to get puffy, what they need is caffeine or ginseng extract and aloe vera for a cooling effect.
One Mask a Week:
The most intensive treatment in just a few minutes – this is what face masks are known for. The type of mask used usually corresponds to your skin type. Face masks contain the highest concentration of active ingredients, which are absorbed by the skin in a very short time, meaning it can benefit from their effects quickly. And, of course, a little break is good for everyone.