How to Care for a Sensitive Scalp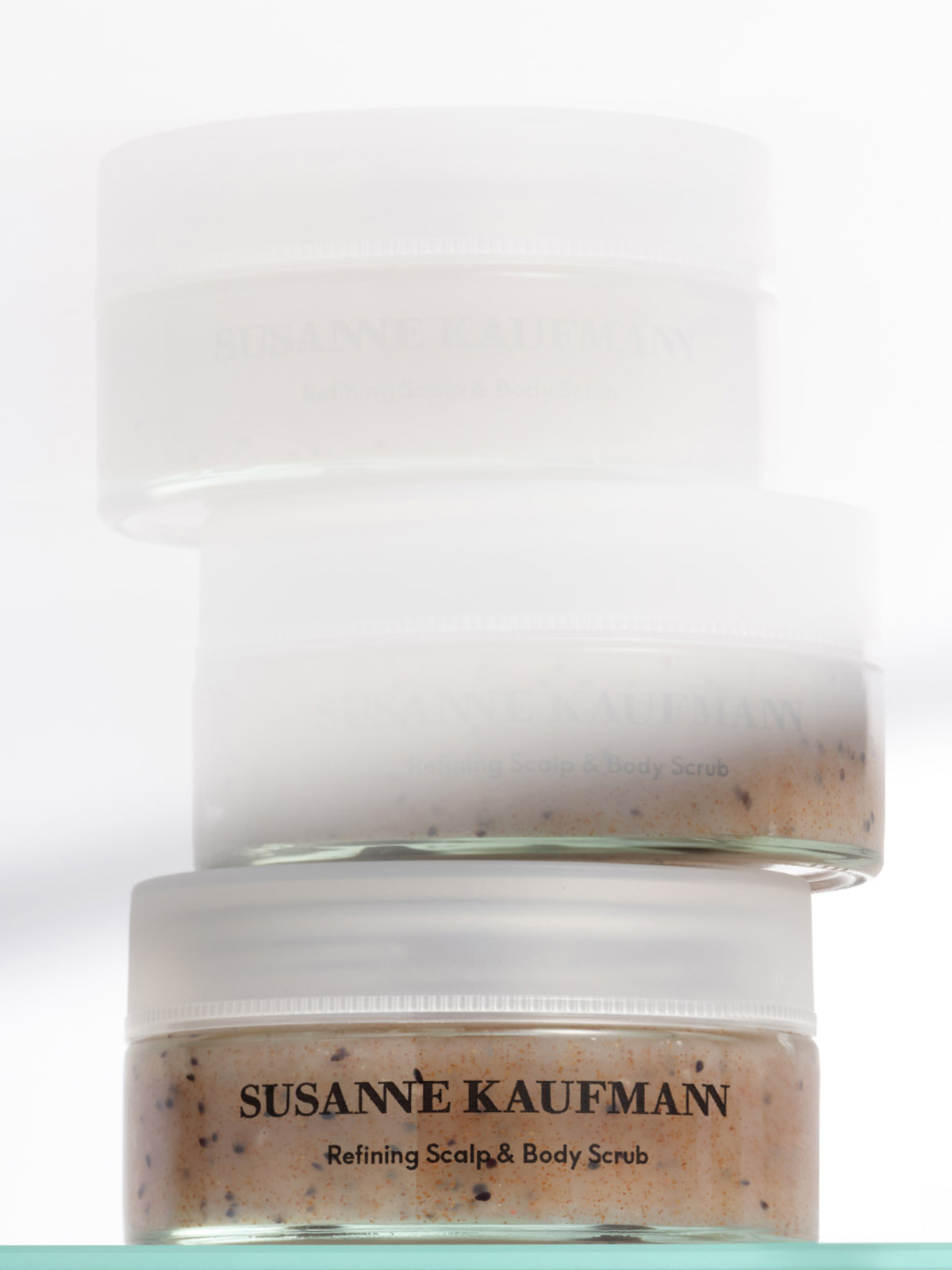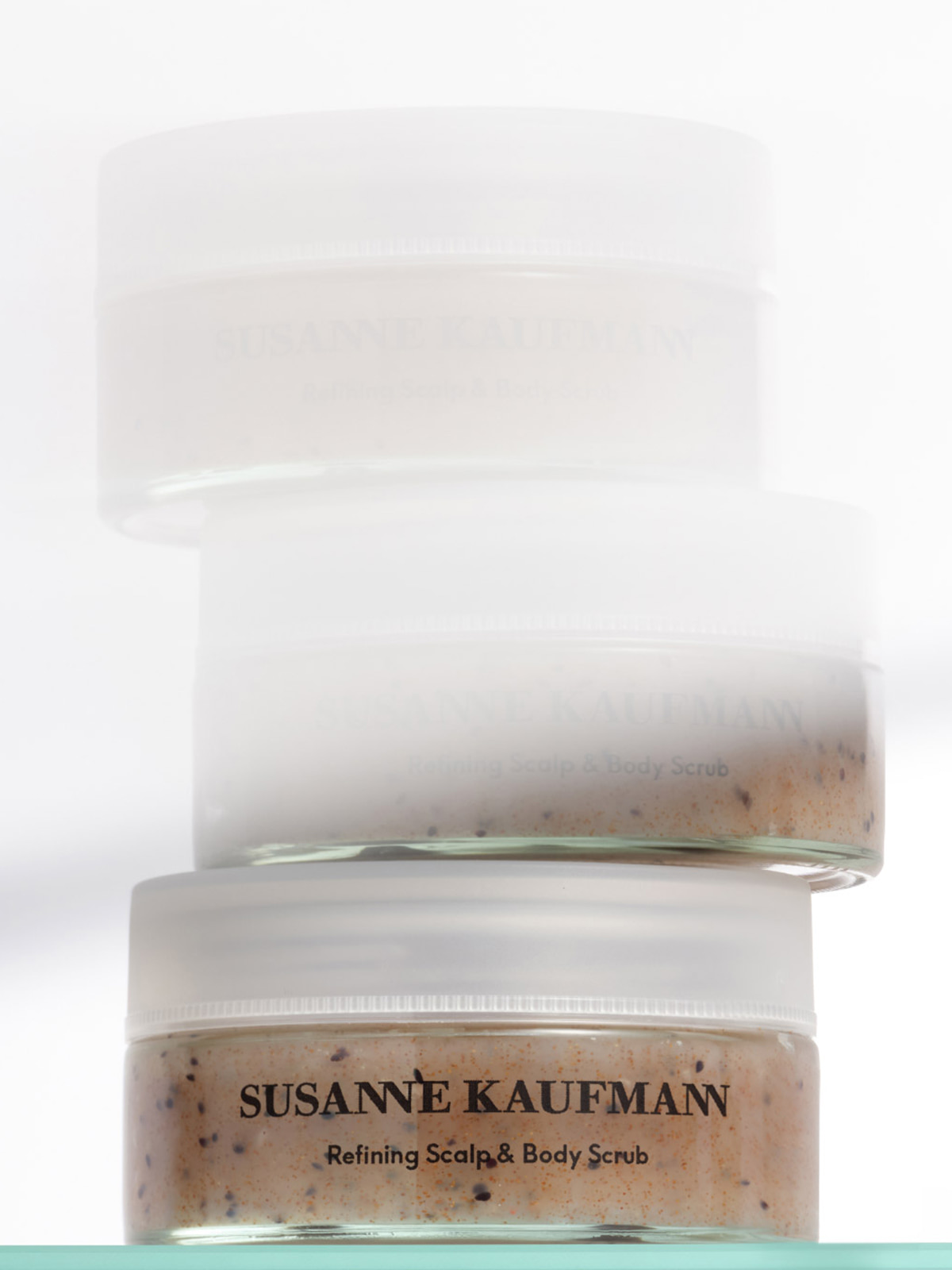 Soothe a sensitive, sore, or tight scalp with targeted skincare, as recommended by our Founder Susanne.
Are you suffering from a burning, itchy scalp, or headaches with hair loss? Then it's time to show your scalp a little love. At Susanne Kaufmann, we believe in treating the skin as one and that looking after your scalp is as a priority as your face or body. A cause close to Susanne's heart, discover her expert tips and favourite products to promote a healthier, comforted scalp.
Discover More
Sensitive Scalp Causes
Reasons for poor scalp health may vary, but to treat your scalp effectively, it's important to identify the root cause. From environmental stressors to simply stress itself, read on to learn more about what causes a sensitive scalp:
Water Type
If you live in a city or a larger town, the use of hard water can harm the skin. Due to the water's mineral build-up, exposure can block hair follicles and moisture, irritating the scalp.
Current Product Usage
Your choice of hair care plays a big part in keeping the scalp healthy. Harsh chemicals found in bleach or relaxers can easily damage the skin on the scalp, while the day-to-day build-up of products like gels and dry shampoo can irritate by not allowing the skin to breathe.
Environmental
However, scalp sensitivity doesn't just stem from your beauty choices. With an increase in sensitised skin across age groups and genders, environmental factors also have an impact. The ongoing rise of food allergies and extreme weather temperatures display an increasingly negative effect on the body and the scalp.
Stress
Likewise, the pressures of modern life can also result in increased scalp sensitivity. Stress can increase the hormones and chemicals that can negatively affect the scalp's barrier function. This can lead to irritation and dryness, along with increased dandruff.
Additionally, a sensitive scalp can coincide with other medical conditions, including headaches, rashes, hair lice and skin psoriasis.
Please note: If you are experiencing severe scalp irritation, we always recommend you consult a medical professional.
Treating a Sensitive Scalp
As scalp sensitivity is a common and often recurring concern, it's crucial to take steps to treat and prevent any further irritation. If sensitivities are left untreated, the scalp can become extremely painful and even cause irreversible hair loss.
From sunbathing to using hair straighteners, we advise limiting your heat exposure for optimal scalp health, as trapping heat in your scalp only magnifies sensitivity. Washing the hair and scalp in cooler water is an easy way to help with discomfort while covering the scalp with a breathable fabric in hot weather will protect against the sun's harsh rays.
We also recommend paying close attention to your cleansing routine, swapping out products with harsh sulphates, silicones, and fragrances in favour of gentle, natural ingredients – such as those found in our Hair & Body Wash.
"The perfect shampoo for a sensitive scalp, I created Hair and Body Wash with a gentle, nourishing formula. Powered by anti-inflammatory rosehip seed oil, this shampoo helps maintain the skin barrier and soothes redness or itching." –Susanne
Last, but not least, massage is one of the best ways to treat a sensitive scalp. Designed for targeted care, our Refining Scalp & Body Scrub is perfect as a massaging treatment for the scalp. As Susanne explains: "Featuring a blend of hydrating plant oils, including apricot kernel, the scrub helps to relieve scalp tenderness and sensitivity through gentle exfoliation."
The perfect solution for overall scalp health, this multi-purpose scrub can reduce hair loss associated with an irritated scalp, using a buffing motion to encourage follicle growth.
Susanne's Scalp Care Ritual
Looking for a targeted sensitive scalp treatment? Discover Susanne's go-to massage ritual with our Refining Scalp & Body Scrub:
"First, use a comb to section the hair and apply the scrub directly to the scalp.
Then, using your fingers, massage the scrub into the scalp. Start at the front of your hairline and work down to the back of the head. Use the fingertips of both hands, applying light-to-medium pressure to your scalp, moving in small circles.
To maximise the scrub's benefits, I like using a warm towel to wrap the hair for a cocooning treatment. Let the product soak in and relax for 15 minutes. Rinse the scalp thoroughly with warm water and follow with our Hair & Body Wash to wash the hair."
Keeping with Susanne's holistic philosophy, follow the Refining Scalp & Body Scrub with our best-selling Body Butter for a whole-body treatment. Locking in hydration after exfoliation, this pairing nourishes the skin back to optimal health – effectively relieving discomfort from scalp to toe.